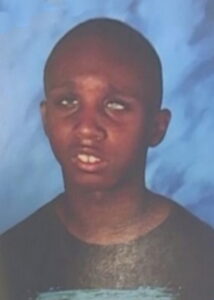 Name: Karreon Walter-Franks.
Died: November 27, 2020.
Age at death: 15.
Cause of death: Neglect (Starvation, pneumonia).
Location: Vancouver, Washington, USA.
Details:
Karreon lived with two siblings and his aunt and uncle. His aunt had legally adopted the children.
At the time of his death, Karreon was known to the child welfare system. His aunt reported to social workers that Karreon and his siblings had been starved for years and had to steal food to survive, and that Karreon was emaciated and had collapsed from hunger. His brother told them that Karreon's mother had hit him with a cane for throwing up. The last contact by child welfare to the home was only a week before Karreon died. His death was reported as pneumonia; but the funeral home contacted police because his body weighed only 65 pounds and was in very poor condition.
After his death, Karreon's two younger siblings were removed from the home. His adoptive mother and uncle were both charged with second-degree murder and homicide by abuse.
References:
Disabled 15-year-old boy dies weighing 65 pounds DAYS after CPS visits adoptive parents' home: Reports
Washington teen's death ruled homicide due to starvation and neglect
Police: Authorities visited starving teen days before death
Child welfare visited disabled 15-year-old boy DAYS before he died weighing only 65 pounds, court docs reveal