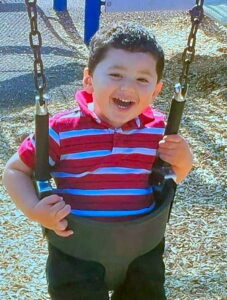 Name: Liam Husted.
Died: May 28, 2021.
Age at death: 7.
Cause of death: Unspecified homicide.
Location: Las Vegas, Nevada, USA.
Details:
Liam loved to swim. He attended a school for autistic children and had a therapist to visit him at home for "behavioral issues", but these services were suspended because of the COVID-19 pandemic. He lived with his mother, who was separated from his father.
Liam's body was found by hikers. Initially unidentified, he was called "Little Zion" until a family friend recognized his photo as that of Liam, who had gone missing along with his mother. Less than a day later, police found Liam's mother and arrested her on suspicion of murder.
References:
California woman arrested after special-needs son's body found in remote Nevada area
Samantha Moreno Rodriguez arrested in special needs 7 yr old son murder
Body Of John 'Little Zion' Doe Found Near Las Vegas Identified As Missing San Jose 7-Year-Old; Mother Wanted For Murder
California mom suspected in son's death arrested after nationwide manhunt
Mother arrested in Denver in connection with San Jose boy's death near Las Vegas
Mother arrested for death of son found dumped on Las Vegas hike trail
San Jose Mother Suspected of Killing 7-Year-Old Son Arrested in Denver
California mom jailed in Denver following son's Vegas death